To control bees and mites, Chyrika · worker (Tiberi Mushrooms)

(Ministry of Agriculture, Forestry and Fisheries Registry No. 22531)
Characteristics of Chirika · worker
Biological pesticide is the state-of-the-art technology of modern agriculture!
Impact on the environment and against human animals.
No worries about toxicity!
Easy release and less effort!
By using early in the occurrence of spider mites, suppressing density for a long time, it is very economical!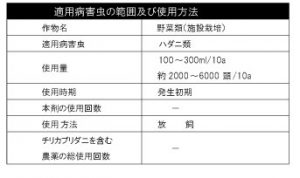 This product is a preparation containing natural enemy Tibericidae to predispose spider mites.
Since the number of surviving days is small, release it immediately after obtaining it, please use up.
Since there may be uneven distribution of chicken turtles in the container, when using, place the container sideways and slowly rotate and uniformly mix, then distribute a given amount on the leaves in small amounts from the container, Please release me. Since releasing after increasing the density of spider mites may not achieve sufficient effect, in order to keep density effective as a natural enemy (30 to 60 spider mites per 1 chicken sparrow mite), spider mites Please release from the beginning of the occurrence.
At low temperatures, activity of Tibericidae ticks is inferior, so please release them at an average temperature of 15 ℃ or higher.
Please select a medicine that does not affect the activity of Tiburabida turtles, as a drug to be used for controlling other pests. In addition, please consider the influence period of drugs used before use of this drug against Tiberi ivy.
When using this drug, pay attention not to mistake the usage amount, use time, use method, especially when using for the first time, it is preferable to receive guidance from relevant organizations such as pest control sites.
Chilica · worker, orders for Pyu Pinyamaru, inquiries to here
Koizumi Hemp Co., Ltd.
Hyogo Prefecture Kobe City Nada Ward, Shin Tagamiinamachi 1 – chome 2 No. 1
Tel: 078 – 841 – 9345 Fax: 078 – 841 – 9349